James J Hennighan (bass) and The Duke of Honk (keys) arrive the next day. I had met James when he was filming a Hellacopters documentary in Philadelphia and New York at the end of their last U.S. tour (we had just finished the Powertrane northeast tour). I met The Duke at the Barbarella Festival in Upsalla, Sweden, where the Hydromatics played with his band, the Diamond Dogs.

We jam in the kitchen for awhile before going out to the guest house to play with Nicke's set of drums. We work on Widow Wemberly by Tony Joe White, I'll Be Around by Johnny Copeland, Good Old Funky Music by Parliament and Take Me For a Little While by Jackie Ross. We also try my four new originals, Top of the Stairs, End of the Day, SNAFU and Goin' Back to Soulville, and Nicke's originals, My Mojo Ain't Working No More, Change Your Mind, Phoenix, No Words and I Have to Quit Ya. The boys forgot to bring the beer but they have brought gasoline for the chainsaw, which we don't use.

I wake up at 7am, of course. It's Saturday and we drop Monkey Boy and the Jackie Ross and George Clinton songs, and add Must be Love Coming Down by Major Lance (written by Curtis Mayfield). Nicke and I work up a new song of his called She Messed Up My Mind. Charlie is filming the whole thing.

That night, Nicke and I finish the words for his song No Words and rearrange End of the Day - it's more like Mavis Staples' version of Security.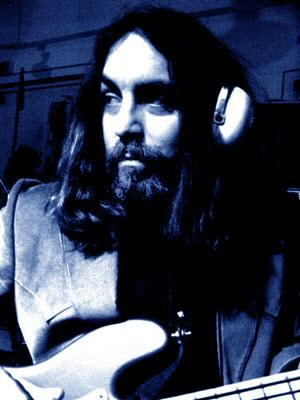 Bassist James J.
It's Sunday and we head for the city. We meet Dave Champion, who is staying at Nicke's apartment, and head for the Diamond Dogs' rehearsal space.

More rehearsing Monday with Charlie, as ever, filming away. Tuesday we have lunch with Carl. Later, we do an interview for the camera and go see the Diamond Dogs play the O Bar. Strings and Boba are playing with them while the 'Copters are on hiatus until November (their 10th anniversary).

On Wednesday, we meet Dregen for tea, and Nicke is DJ at the Club Mondo. I meet their ex-guitarist, Mattias Hellberg and talk with him in the lounge downstairs. Thursday is more of the same, but Dave Champion leaves to tour-manage with The Maggots on the Continent.